Becker Stahl-Service GmbH is one of the largest service centers in Europe in the metal industry. Steel, stainless steel, and Top-quality aluminum within 24 hours – that´s Becker's promise and it is met every day. At the company's headquarters in Bönen, near the A2, dozens of trucks are loaded daily.
Essential for this is functioning internal logistics, the backbone here is the company-owned forklift fleet. But not only this is constantly in motion. Because internal logistics also includes the transport of production materials, machine parts, and, of course, pallets. And this is where the long-cargo conveyor (LCC) from SIMPLY proves its worth. It can be used so flexibly for almost every kind of purpose. Every detail was designed with a wealth of possible requirements in the background, which pays off for every customer.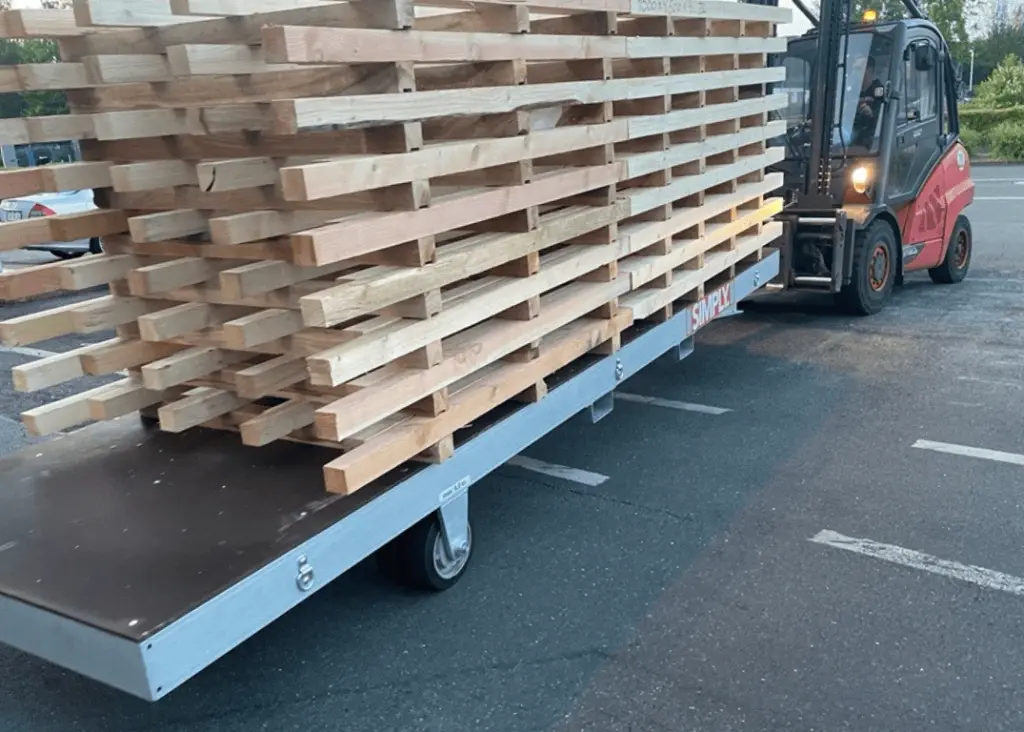 It starts with the material. The frame is made of solid hot-dip galvanized steel. This makes it as robust as it is weatherproof.
Loads of up to 7 tons can easily be realized. Nothing stands in the way of using it as a buffer store either, and when the LCC is moved, it proves itself to be maneuverable in the tightest of spaces. The drawbar can be rotated all around and has a mount for the forks of any standard industrial truck. One of the many Becker forklifts will always be moving the LCC
Its main area of application is in pallet transport. The flat continuous floor and the low loading sill make it ideal for this. Machine parts can also be transported in this way, which is also done from time to time.
Preparations: None.
The transport trailer previously used at Becker proved to be less suitable for such tasks and those responsible at Becker needed a solution. This came from the parent company, Klöckner & Co, one of the largest manufacturer-independent steel traders in the world. Several long-cargo conveyors have proven themselves at Klöckner for many years and that made the decision-making process easy.
After an on-site appointment with the SIMPLY experts, they quickly realized that they were looking for a Long-cargo conveyor that went beyond the standard dimensions.
And the developers at SIMPLY always have an open ear for such ideas and customer requests.
This time, too, a long-cargo conveyor was designed for individual use at Becker Stahl-Service, which optimally meets the requirements.
The long-cargo conveyor is 5 m long and 1.5 m wide. The stable, continuous loading floor can carry a weight of up to 6 tons. The simple fork mount for the forklift makes it easier to pick up and maneuver the truck on the factory premises and through the production halls. Now the employees at Becker Stahl-Service praise the noticeable reduction in workload and the simple, safe handling.