SIMPLY. Container Loading System – Effortless Logistics
Discover the SIMPLY. Container Loading System – A game-changer in logistics. Simplify the container-loading process with a push of a button. Enhance safety, save time, and handle up to 30 tonnes effortlessly in 10 minutes. Your reliable solution for efficient and secure container loading worldwide.
SIMPLY.
Push The Button.
Load And Go.
Welcome to SIMPLY. Logistic Systems GmbH, your go-to partner for revolutionizing logistics operations. With our innovative range of products, we simplify the complexities of the industry, making your logistics processes efficient, reliable, and hassle-free.
At SIMPLY., we understand the challenges you face in Container Loading and Material Handling, which is why we have developed game-changing solutions that set new standards. Our flagship product, SIMPLY., is a state-of-the-art container loading system that ensures simple, fast, and secure loading with just the push of a button. But we don't stop there – our expertise extends to a comprehensive lineup of material-handling systems designed for versatility and heavy-duty performance.
Experience the power of  logistics solutions from SIMPLY. and unlock a new era of productivity and profitability in your operations.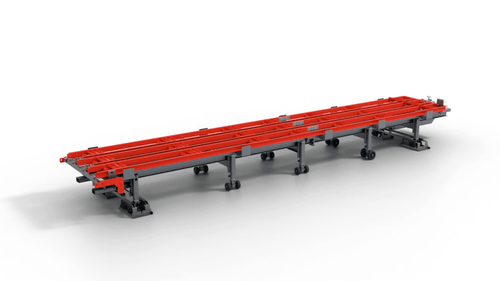 Unveiling the Advantages of the SIMPLY Container Loading System
In the dynamic world of logistics, efficiency is the key to staying competitive. Container shipping is vital to global trade, but loading and unloading containers can be challenging, risky and time-consuming. That's where the SIMPLY. Container Loading System comes in, revolutionizing the process with increased safety and cost-effectiveness.
Handling bulky items has never been easier with SIMPLY.'s simple and efficient design. No more manual labor or risky improvisation. Just push a button and your staff can focus on other important tasks. Whether it's flood protection systems, cable railway components or agricultural machinery, SIMPLY. ensures fast and safe loading.
The benefits of the SIMPLY. Container Loading System are numerous and solve logistical problems with ease.
Enhanced Safety
Ensure staff safety and protect your cargo with SIMPLY.'s automated loading, eliminating the need for personnel inside containers.
Time Efficiency
Cut loading times by up to 10 minutes, enabling quicker turnover and streamlined logistics.
Low Maintenance Requirements
SIMPLY.'s robust steel components require minimal maintenance, saving time and money on repairs.
Cost-Effectiveness
Reduce costs associated with manual loading and streamline operations for enhanced profitability.
Ready To Simplify? Let's Connect!
If you're interested in our state-of-the-art Container Loading System or have questions about its capabilities, our sales team is here to assist you. Experience the simplicity and efficiency of SIMPLY. firsthand. Contact us now to schedule a call and discover how our solution can transform your logistics operations.
Smart
Intelligent automation streamlines the container loading process, optimizing efficiency and minimizing manual intervention.
Simple
With a user-friendly interface and intuitive controls, SIMPLY. Container Loading System makes the process hassle-free for all operators.
Fast
Experience swift loading times, as SIMPLY. accelerates the container loading process, ensuring quicker turnaround for shipments.
SIMPLY. Container Loading Machines
The Complete Range
Optimized Solutions
for 20ft, 40ft, and 45ft Containers
Compressed Air Connection
Unveiling the Powerhouse Details
Explore the exceptional versatility of SIMPLY Container Loading Machines, designed to elevate your logistics operations. From 20ft to 45ft containers, each model ensures streamlined operations, seamlessly handling your cargo. Experience outstanding performance, reliability, and ease as the SIMPLY container loading machine precisely meets your unique loading requirements.
High Load Capacity
With a robust load capacity of over 30 tons, the SIMPLY. system effortlessly handles heavy and bulky items, ensuring efficient container loading for even the most demanding shipments.
Advanced Safety Features
SIMPLY. system prioritizes safety with features such as safety sensors, emergency stop buttons and enhanced load securing mechanisms to ensure the well-being of your employees and protect your valuable cargo.
Time-Saving Automation
Take advantage of the time-saving automation of the SIMPLY. system to reduce manual labor and speed up the loading process. It streamlines your workflow, enabling faster turnaround times and increased operational efficiency.
Space Optimization
The compact design of the SIMPLY. system maximizes space utilization in your facility or yard. In addition, the SIMPLY. loading system allows you to use every inch of space on the truck while loading. Its efficient footprint allows for seamless integration into your existing logistics setup, optimizing your plant layout.
SIMPLY. in Action – Customer Stories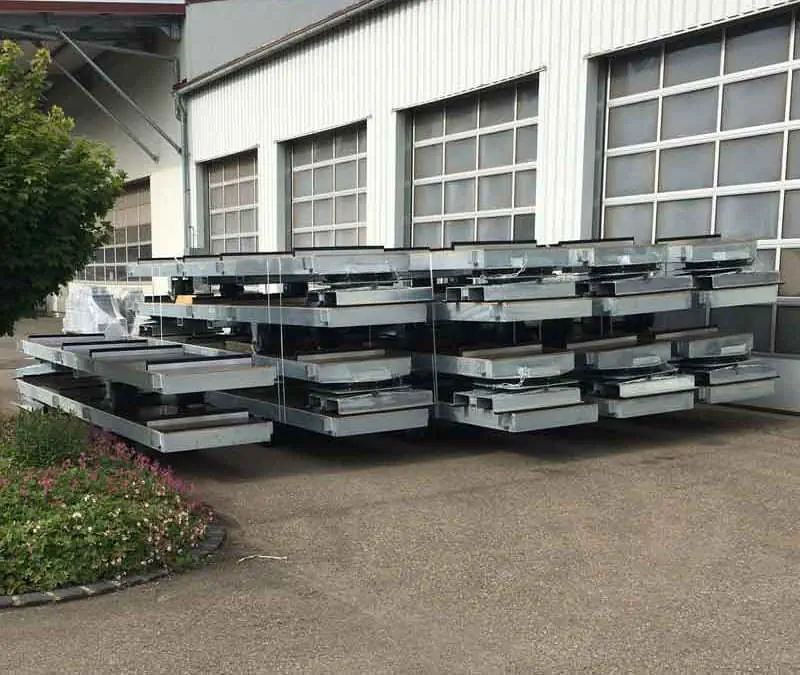 At 21 meters high, 40 meters long and 25 meters wide, the new high-bay warehouse of Debrunner Acifer AG in Birsfelden, Switzerland, not only boasts impressive dimensions, but also impresses with its above-average performance: A total of 9,000 tons...
Ready for more than just exceptional Container Loading Machines? Explore a world of innovative solutions from our company. Click the button to discover a range of cutting-edge products and get in touch with our sales team. Let's elevate your logistics together!
Simply Push Your Buttons.
Load Your Contact Form.
And Go!
Ready to simplify your logistics? Discover the power of SIMPLY. Container Loading System. Contact our sales team now for more info or to get a quote!
Want to speak with a sales expert Lukas Binser directly? Call now to find out how to simplify your logistics: +49 821 45 51 8664
Frequently Asked Questions
Commonly Asked Questions About SIMPLY Container Loading System
Can the machine be used outside?
Yes, our machines are designed to withstand extreme weather conditions. You can use the SIMPLY. outdoors all year round.
How is the product unloaded?
It is usually done in the same way as before. The sled is pulled out with a forklift or with a chain on a ramp. If there is a large number of containers, a second machine can be used for unloading, which is just as easy and safe as loading.
How does the product get to the machine?
Depending on the product it is quite simple, either the product is lashed to the floor on a base pallet and then placed on the SIMPLY., or the pallet is placed on the machine first and then the product is placed on the machine with the best space and visibility.
What is required for operation?
To operate the SIMPLY. Container Loading Machine you need compressed air of 6-8 bar. If there is no fixed compressed air supply, this can also be provided by a mobile compressor with a tank of approx. 200l. You will also need a power supply of 400V/50 Hz (16A) or 480V 60Hz.
How do you dock to the container?
The truck moves approximately in front of the machine. The alignment is done manually with the lateral adjustment. Electric on request. When the machine and truck are aligned, the truck moves all the way in front of the machine and is then locked firmly to ensure a secure connection during the loading process.
Can the electric side shift be retrofitted?
Yes, this is possible on all our machines. The best thing is to ask our experts.
How do you compensate for the difference in height to the truck?
Usually the most common truck trailers have a levelling system installed so that the truck will level itself with the machine. If this is not the case, or if the process requires a certain height, the entire machine can be moved up and down or leveled with the use of landing legs.
Where do I get the pallet?
You can easily build the pallet yourself or get it from a local pallet supplier. We know many of our customers' pallet suppliers, just contact us.
Is it possible to lease the machine?
Yes, leasing can be done through your leasing partner or we can introduce you to one through our network with a suitable leasing offer.
What accessoires are available?
Manual side adjustment (recommended): Simplifies docking to the truck.
The side adjustment allows the SIMPLY. to be aligned with the truck at the front and rear. This corrects possible skew and speeds up the docking process.
Electric Lateral Adjustment: Same as the manual side adjustment, but with spindle gear motors. One push of a button on the control panel and the machine moves in the desired direction.
Electric Height Adjustment: At the touch of a button, gear motors move the landing legs to the desired height. All synchronized together or individually. No more cranking with a hand crank.
Radio remote control or control bottle: Newer generation machines have a wired control bottle to operate the retraction and extension process. If this is not flexible enough for you, we can install a radio remote control, which can be used to operate the electrical side adjustment or the infeed and outfeed into the container.
Additional equipment not listed? Ask one of our experts. We will be happy to try to implement your suggestion.