LogiMAT in Stuttgart is Europe's largest annual trade fair for intralogistics. Exhibitor and visitor numbers are increasing every year, due to LogiMAT offering an extensive market overview, and comprehensive information on all aspects of process management – from effective data networking to virtual scenarios.
But of course there's also the hardware side of things. Because no matter how the intralogistics of the future will benefit from digitisation, in the end, it always boils down to shipping goods effectively and profitably. And, in this respect, no one can give containers the go-by worldwide.
Once loaded, a process chain is initiated, much of which is highly automated. Digitisation will unlock further potential – highlighted by LogiMAT. But how is a container loaded and unloaded? And what happens after it has been shipped? How can heavy, bulky cargo be loaded quickly, easily and safely? The answer is straightforward: SIMPLY.
Container fillers? Once again, the answer is SIMPLY. But it is so much more than that! Particularly as in some industries, container fillers are often equated with bulk freight.
Container-Filler? SIMPLY. marks the difference!
SIMPLY. marks a key difference here: It is a mobile, robust container loading system. Designed for heavy-duty use outdoors, including harsh climatic conditions.
It transforms the container loading process from a challenge into a factor of efficiency for potential savings: Directly by doing away with open top containers, through shorter idle times and faster transit times, and indirectly through increased safety and elimination of the traditional forklift "ballet". This heavy machinery can now be used sensibly elsewhere.
SIMPLY. showcase at LogiMat
So it's only logical for SIMPLY. to be attending LogiMat. Because it's not presenting an optimisation of known systems or products; it's a unique solution that, in this form, doesn't exist anywhere else.
Above all, SIMPLY. is a solution that connects process management and material handling with their practical application, and thus doesn't simply act as the bridge into the future, it is an integral part of the future. And this will hold true for as long as containers remain part of worldwide logistics.
The advantages of the SIMPLY. container loading system are already being connected with those of the material handling systems also offered by the company. Like SIMPLY. itself, they are well designed for handling and transporting heavy cargo. The material handling systems can be used as buffer storage facilities, use space efficiently, and can be individually configured or manufactured to suit their purpose.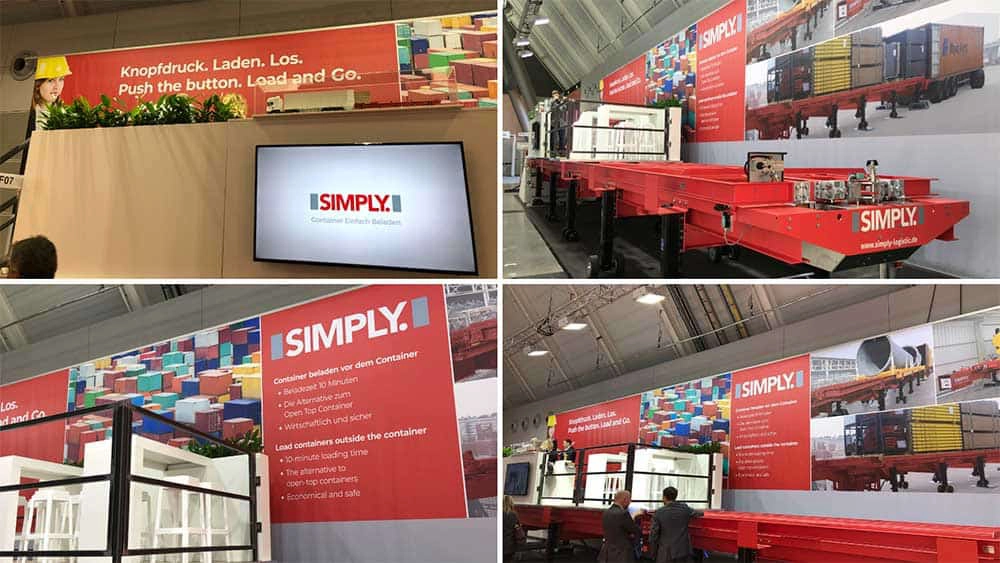 These solutions, as well, result in the sum of practical experience and efficiency: Profitability and safeguards for the future.
SIMPLY.'s presentation at the 17th edition of LogiMAT in Stuttgart, taking place from 19 to 22 February, will be compact but spectacular.
Booth F07 in hall 9 is the location of one of the most important meeting place at LogiMAT. The SIMPLY. booth will be just as innovative as the container loading system itself. The system's solid frame, with a load-bearing capacity of 30 tonnes, forms the basis of a comprehensive presentation. Stairs lead to the catering area, which provides a great atmosphere for informative discussions about intralogistics. Here container loading, container unloading and material handling are the focus. So visitors will be able to enjoy a step-by-step familiarisation of SIMPLY.'s benefits in the truest sense of the word.
The SIMPLY. trade fair team wishes you a successful 2019 LogiMAT and we look forward to meeting you there!